Mother's Day is almost upon us, the one day we have to truely get papmered. I wish I lived closer to my mother, so I could make her this delicious recipe. I miss and love you mom.
I found this recipe on
Oh She Glows
and it is simpy divine. (The Picture is from Oh She Glows)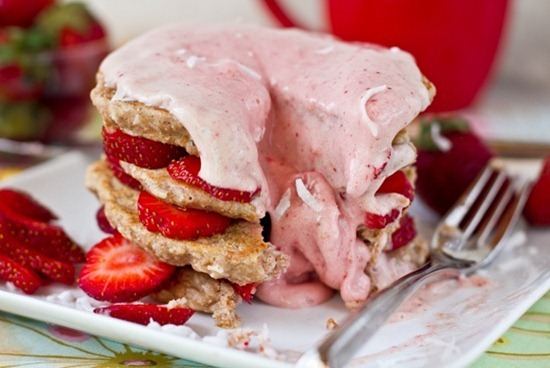 Stacked Strawberry Shortcake Pancakes
Ingredients:
1 cup + 1/4 cup whole wheat flour
½ cup shredded, unsweetened coconut
1 teaspoon baking powder
¼ teaspoon baking soda
¼ teaspoon nutmeg
¼ teaspoon allspice
¼ teaspoon cinnamon
Pinch or two kosher salt
¾ cup coconut milk
½ teaspoon pure vanilla extract
1 tablespoon pure maple syrup
¾ cup warm water
Oil, for skillet
Strawberry Banana Soft Serve (3 strawberries + 1 frozen banana, processed in food processor)
Directions:
Preheat oven to 250F and grab a baking sheet. Whisk the dry ingredients (flour, coconut, baking soda, baking powder, spices, and salt) in a medium sized bowl. In a small bowl, whisk together the wet ingredients (coconut milk, warm water, vanilla, maple syrup) and then add to the dry ingredients. Whisk well until no clumps remain.
Preheat the skillet over medium heat and add some oil on the pan. Pour 1/4 cup of batter, per pancake, onto the skillet and quickly smooth out a circle with the back of a spoon. Cook until small bubbles appear on the surface and the bottoms of pancakes are golden. Reduce heat if necessary (I cook them on heat # '3'). Transfer to baking sheet and place in the oven to keep warm.
Meanwhile, slice about 20 strawberries. I also made Strawberry Banana soft serve by processing a frozen banana with a few strawberries to make the cream sauce. Once my pancakes were stacked, I scooped the strawberry banana soft serve on top. Drizzle with maple syrup and serve immediately.
Serve with a glass of Mimosa
Ingredients:
Sparkling Wine, Cava, Prosecco or Champagne (1 bottle)
Orange Juice (1 carton)
Triple Sec (optional)
Directions:
Fill half of a champagne flute with chilled sparkling wine or Champagne (about an ounce) and top off with chilled orange juice (again about 2 ounces), gently stir. If you'd like to add triple sec, just a splash to taste works out fine. For added flare, slice up a strawberry to decorate the rim of each flute. Enjoy!
Namaste,
Sweet Zen Life